The case touches on some of the same decentralized-finance issues as the recent collapse of the US$45-billion Terra project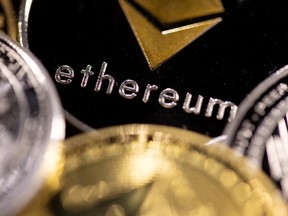 Article content
Imagine a guy counting cards at blackjack, winning all the casino's money. Sure, some casinos might kick the guy out. But that's it. The card counter exploited a vulnerability in the game, but he did follow all the rules. There's nothing illegal about it.
Article content
Or is there?
There's something of a cryptocurrency version of that scenario playing out in a Toronto court, involving a 19-year-old genius from Hamilton. The case puts the crypto concept of decentralized finance, or DeFi, in sharp focus. And it touches on some of the same legal and ethical issues as the recent collapse of the US$45-billion Terra project: If people lose money in an open-source crypto project that has publicly available code, can they blame anyone other than themselves?
The Hamilton teen, Andean Medjedovic, had graduated high school at age 14 and, at 18, was already completing a master's degree in mathematics at Waterloo University.
The case Medjedovic is involved in centres on a DeFi project called Indexed Finance, a sort of index fund for the cryptocurrency market. Being DeFi, the project sought to achieve its ends without a human: Everything would be code.
Article content
Indexed Finance, like most DeFi projects, runs on the Ethereum network, founded by the Canadian Vitalik Buterin. Such projects have been popular. By November of last year, the value of all cryptocurrency held on DeFi services amounted to more than US$247 billion, a 1,700 per cent year-on-year increase, though certain to be much lower today given the recent plunge in crypto values.
But such projects have potential vulnerabilities beyond the broader volatility of cryptocurrencies. When everything is determined by code, any weakness in the code can mean millions in losses. And for DeFi, to prove that the proponents themselves are not scammers, the typical standard is to publicly post the code behind the project.
Article content
Those two items are not a good combination. On Oct. 14, 2021, Medjedovic manipulated the Indexed Finance platform into letting him buy coins at an extreme discount, whisking away crypto worth US$16 million, as he would later publicly admit.
The proponents behind Indexed Finance sued Medjedovic. So did some users of the platform who lost their money as a result, saying he had "hacked" the project.
But Medjedovic has said he never improperly accessed anything he wasn't allowed to. Some software developers have a Code is Law ethos, and Medjedovic said he did only what the project's publicly available rules allowed him to do.
In investing, anyone making a buck is making it off someone losing a buck. All the other users of Index Finance were trying to make a buck off someone. By Medjedovic's logic, he was no different and was simply a savvier user.
Article content
Who is wrong and who is right in this case is much like the issue of the Terra implosion. It's one of the factors of the recent brutal bitcoin crash, in which bitcoin's value has been cut by more than half from its November 2021 peak to around US$20,000 currently.
Terra, too, is a DeFi project. It has a purported "stablecoin" TerraUSD, a cryptocurrency pegged one-to-one to the U.S dollar. Terra sought to maintain that peg through a system of code-facilitated trading of its other coin, Luna — no humans needed.
That code didn't work out well. Terra lost is dollar peg in May, and both it and Luna fell to nearly zero. Investors lost US$45 billion. Terra's founder, Do Kwon, is facing a criminal probe in his native South Korea, and the U.S. Securities and Exchange Commission is investigating the platform's implosion as well.
Article content
This case has obvious differences with that of Indexed Finance, but at the heart of it, they deal with the same issue: Those who have now lost money had been seeking to profit off others, and they had gone into the project with all the relevant information about it at their disposal.
The central tenet of DeFi is that humans are the weak points in any system. That thinking, though, forgets that code is a human product, and as such it inherits human weaknesses that can be exploited. How the cases of Indexed Finance and, particularly, Terra would conclude has great implications for the future of this billion-dollar industry of DeFi.
Article content
Even Justice Fred Myers in the Toronto case has said the matter raises "an interesting, timely and important issue about the relationship between the common law and blockchain technology." Benjamin Bathgate of McMillan LLP, acting for an unnamed Indexed Finance user or group of users, has said the case could be the first to test the issue of whether code truly is law.
But, for now, the case might never delve any deeper into that issue.
That is because Medjedovic has apparently packed up and run instead of dealing with the civil lawsuit. Justice Myers has issued an order for his arrest, and the case is effectively stalled until Medjedovic is found.
Ethan Lou is a journalist and author of Once a Bitcoin Miner: Scandal and Turmoil in the Cryptocurrency Wild West.
_____________________________________________________________
If you like this story sign up for FP Finance Newsletter.

_____________________________________________________________
…



Read More: Ethan Lou: A Hamilton teen genius 'hacked' millions in crypto — but he may not be in the