Despite the Gala Crypto price struggling in the markets for the past few months, the platform has continued to gain traction with video game users. A recent announcement shows that Gala's Web 3 wild-west themed game, Grit, will be added to the Epic Games platform. With the publishing of its games on the Epic Games platform, Gala Games will have an exposure of more than 194 million users.
In exchange, the Epic Games platform will see some of its users get exposed to the Web3 games. The partnership is one of many notable steps that the Gala Games have taken in the past few months as they continue to dominate the Web3 gaming industry.
This includes being among the first Web3 company to introduce first-person shooter (FPS) by a AAA studio. Recent months have also seen the Gala platform launch the Gala Music Platform. Gala is also in the process of launching Spider Tanks, which will be the world's first NFT eSport.
Gala Crypto Price Prediction
Gala Crypto price is up by a percentage point in today's trading session. The current drop comes a day after Gala experienced one of its toughest days in the markets, where it lost 10 per cent yesterday. Before the drop, prices had rallied by 77 per cent since May 12. 
Therefore, it is likely that yesterday's price drop was due to a market correction. Today's resumption of the bullish move is also a resumption of the long-term bullish trend that started more than three weeks ago. Therefore, I expect the prices to continue with the bullish trend throughout today's trading session.
I also expect the next few trading session to be bullish. We are highly likely to see Gala prices trading above the recent $0.09 resistance level. If the current bullish move will have enough momentum, then there is a high likelihood we will see prices trading above $0.1. However, if the prices trade below $0.07, my trade analysis will be invalidated. It will also mean my bullish trend will have been invalidated.
Gala Daily Chart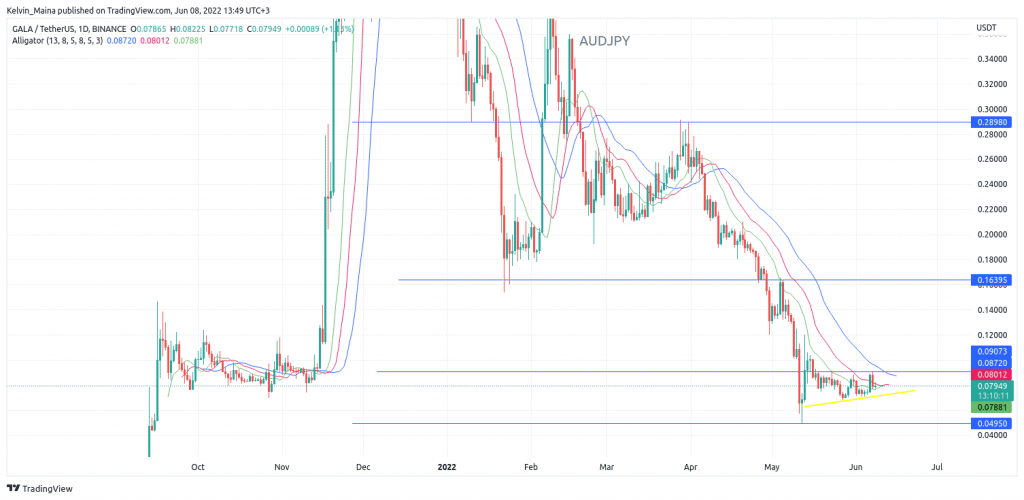 Read More: Gala Crypto Price Prediction: Epic Games Partnership A Game Changer