Beware! You may assume hackers are the biggest threats to your crypto fortunes, which is likely why you're here. You're researching whether the Nano S Plus, Ledger's newest hardware wallet, is the best security tool for warding off malicious actors.
However, there's an entity that's far more dangerous to your digital assets than cybercriminals — you.  Yes, you! You're your own worst enemy. Fortunately, the Nano S Plus can stymie self-sabotage. "How could I possibly jeopardize my own crypto?" you may be wondering.
The crypto market, as you may know, is extremely volatile, subject to the whims of Elon Musk's tweets and other frivolous occurrences. If you're holding Bitcoin (BTC) in an online wallet, and its value plummets without warning, you may panic sell. Online wallets, also known as hot wallets, allow users to trade with a few easy, effortless clicks.
However, selling crypto with a hardware wallet isn't as seamless — and this is by design. You'd have to retrieve it from its hiding spot, plug it into your PC, input a passcode and press a series of physical buttons before you can sell anything. The "red tape," so to speak, thwarts you from panic selling, prompting you to second guess poor decisions. If you have your BTC in a Ledger Nano S Plus wallet, you'll think twice before doing something you'll later regret (e.g., prematurely selling).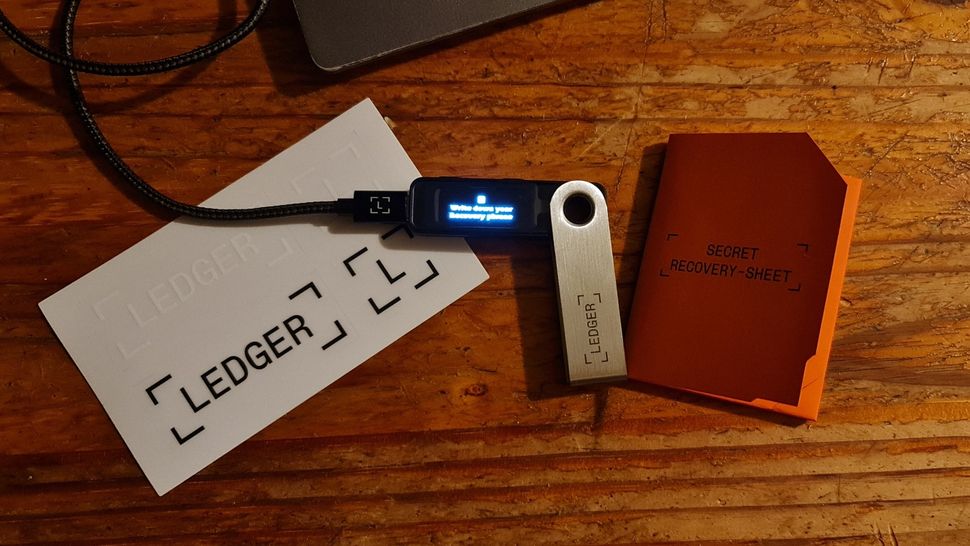 I spent two weeks with the Ledger Nano S Plus, transferring assets in and out of the wallet, experimenting with NFTs, and testing its staking feature (a perk that lets you earn interest on select cryptocurrencies). Read on to find out its pros and cons — and whether it's worth the investment. 
Ledger Nano S Plus price and availability 
The Nano S Plus, at $79, won't give you the same sticker shock as the $150 Nano X (Ledger's 2019 entrant to its hardware wallet portfolio), but admittedly, it's still steep for a simplistic USB stick-esque device.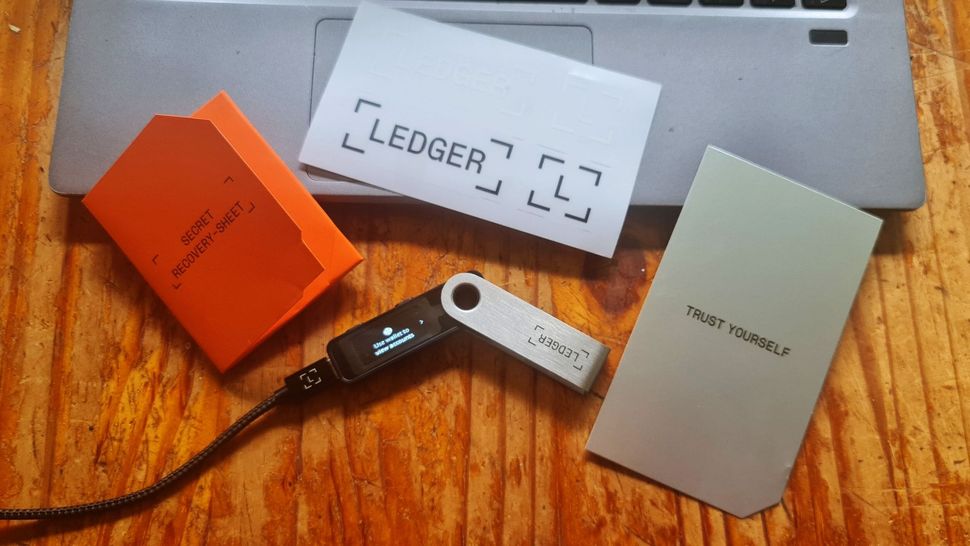 When I wrote the Ledger Nano X vs. Nano S face-off, a comparative analysis between the $149 Nano X and the $79 Nano S (now $59), I whined about their exorbitant price tags. Paying a dollar short of $150 for a rudimentary device seemed ludicrous at first, but I concluded that it's well worth the expense for cutting-edge crypto security (and the frequently updated companion app "Ledger Live.").
The Ledger Nano S Plus comes with 1.5MB of storage, supports up to 100 crypto apps, and a CC EAL5+-certified chip. (opens in new tab) If the latter sounds like gibberish to you, it simply means that the Nano S Plus passed the Common Criteria security evaluation. Ledger hardware wallets use state-of-the-art Secure Element chips, high-end security solutions that protect sensitive data (e.g., passwords, SIM cards and credit cards). As such, the CC EAL5+ certification ensures that the Nano S Plus' chip meets a certain security standard.
The Ledger Nano S Plus' release date was April 5. You can purchase the new hardware wallet on Ledger's official website. (opens in new tab)
| | | | |
| --- | --- | --- | --- |
| | Ledger Nano S Plus | Ledger Nano X | Ledger Nano S |
| Price | $79 | $149 | $59 |
| Crypto assets | Up to 100 | Up to 100 | Up to 6 |
| Storage | 1.5MB | 2MB | 320kb |
| USB type | USB-A to USB-C | USB-A to USB-C | USB-A to micro-USB |
| Desktop use | Yes | Yes | Yes |
| Mobile use | Android only | Android and iOS | Android Only |
| Battery | N/A | 8 hours of standby | N/A |
| Screen | 128 × 32 pixels | 128 × 64 pixels | 128 × 64 pixels |
| Size | 2.2 × 0.7 × 0.36 inches | 2.8 × 0.7 × 0.5 inches | 2.3 х 4.1 х 0.2 inches |
| Bluetooth | No | Yes | No |
How the Ledger Nano S Plus differs from the Nano S and Nano X 
There are two other popular Ledger hardware wallets: the Nano S and the Nano X. You may be wondering, "How do they differ from the Nano S Plus?" The $59 Nano S may appeal to cash-strapped crypto investors, but keep in mind it only has 320kb of space and can only hold up to six cryptocurrency apps. Meh!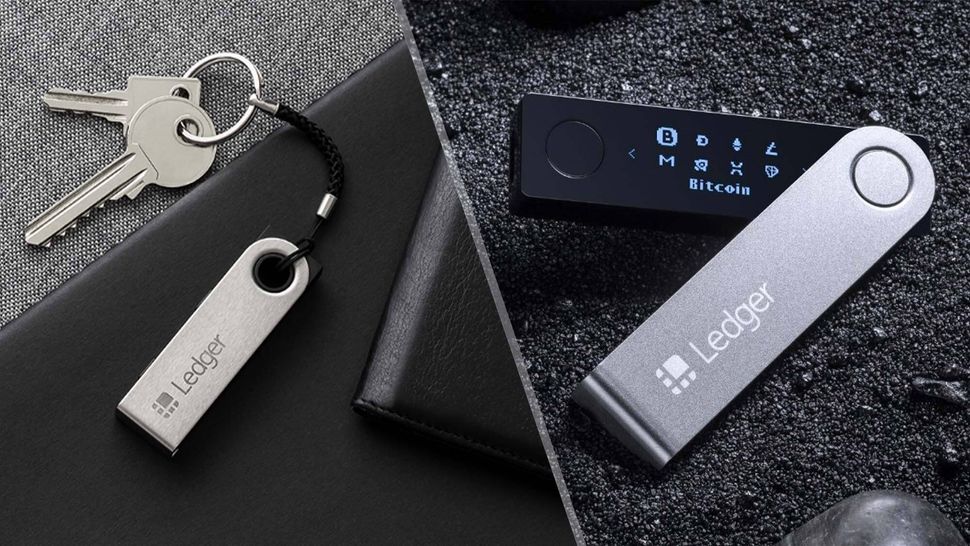 What's a cryptocurrency app? Well, in order to hold digital assets in a Ledger hardware wallet, you need to install a cryptocurrency app for your specific token or coin. For example, if you want to move Bitcoin (BTC), Solana (SOL) and Dogecoin (DOGE) to your Ledger hardware wallet, you'll need to install the Bitcoin, Solana and Dogecoin apps, respectively.
Some crypto apps can manage more than one digital asset. For example, Shiba Inu (SHIB) is a token that runs on the Ethereum blockchain, so you must use the Ethereum app to store it. It's also worth noting that many NFTs run on Ethereum, too. This means that the Ethereum app alone can hold several assets: NFTs, SHIB, ETH and more.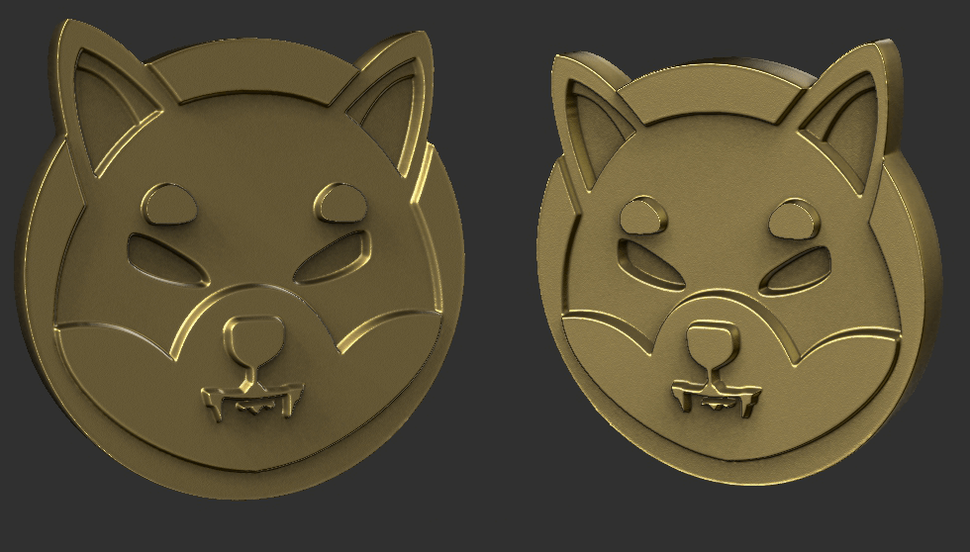 If you're a crypto investor who only works with a handful of cryptocurrencies, and you don't foresee yourself developing an interest in a myriad of digital assets, the Nano S is for you. Keep in mind, though, the Nano S doesn't have a battery (you must keep it plugged into your desktop computer or phone to operate it), it lacks Bluetooth support (useful for connecting to your mobile device sans a cable), and it's incompatible with iOS (the Nano S works best with PC/Mac/Linux and Android phones).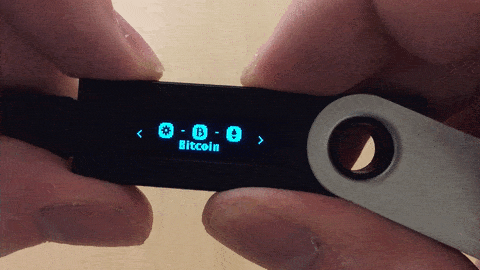 The Nano S Plus has similar limitations: it doesn't have a battery, it lacks Bluetooth support and it's not compatible with iPhones. However, unlike the Nano S, it has 1.5MB of storage and can hold up to 100 crypto apps — much better than the Nano S' puny six. The Nano X can also juggle up to 100 crypto apps, but has a little more storage space (2MB). It also has Bluetooth support, allowing users to connect their Nano X with an Android or iOS mobile device. Plus, it has a battery that offers an 8-hour standby runtime.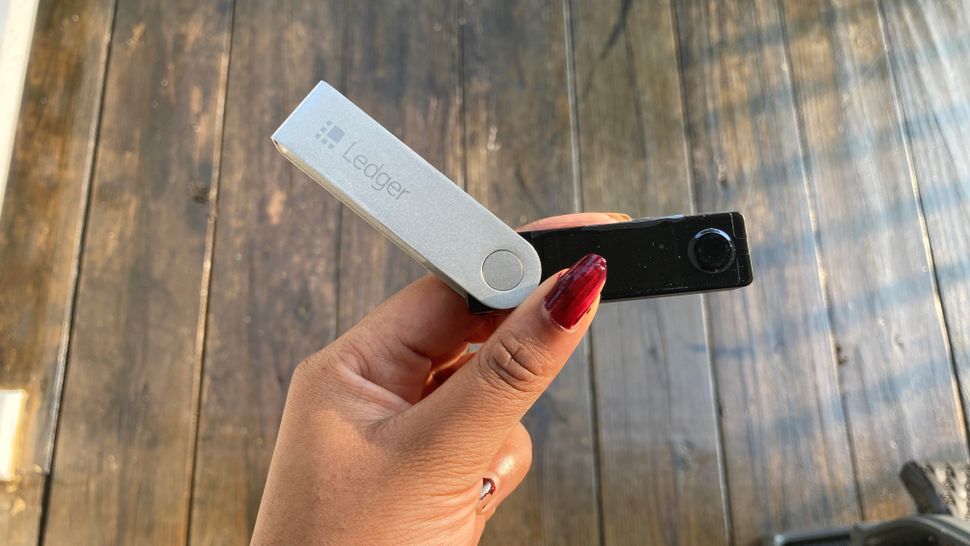 To conclude, the Nano S is best for crypto investors who only want to store a handful of digital assets. The Nano X is imperative for iPhone owners (i.e. the Nano S series doesn't jive with iOS). The Nano S Plus gives you the best bang for your buck. No, it doesn't come with Bluetooth nor a battery for untethered connectivity, but who cares? If it's necessary for you to pair your Nano S Plus with your phone, you can still use a USB cable.
Ledger Nano S Plus design 
I have a bone to pick with Ledger when it comes to the Nano S' awkward design, but let's start with the pros. The Nano S Plus, reminiscent of a USB stick, has a fit-into-the-palm-of-your-hand footprint, allowing it to fit into small pockets and other tiny compartments inside your favorite laptop bag.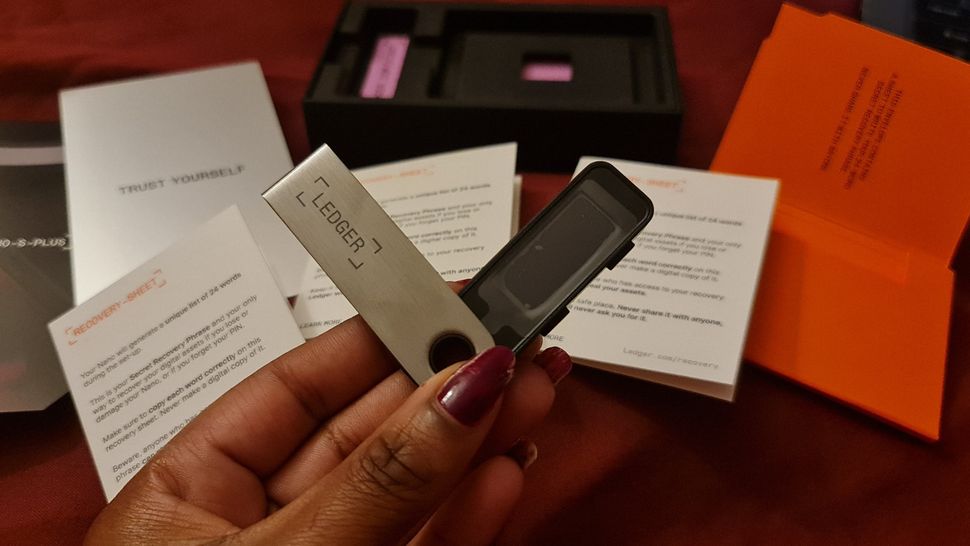 The Nano S Plus sports an onyx rectangular prism that features a 128 x 64-pixel display. This panel, by the way, is noticeably larger than its predecessor's screen. On top of the prism are two buttons that help users navigate the hardware wallet's OS. Now here's where things get bizarre. The Nano S Plus has a brushed stainless steel case that can be swiveled around to hide the USB-C port. What I don't like about the case is that it has a hole that tacitly encourages users to attach the Nano S Plus to keychains and other objects.
The Nano S Plus shouldn't be out in the open on keychains nor swinging off bookbags; it should be kept in a safe, a locked drawer or wherever you prefer to stash your treasures.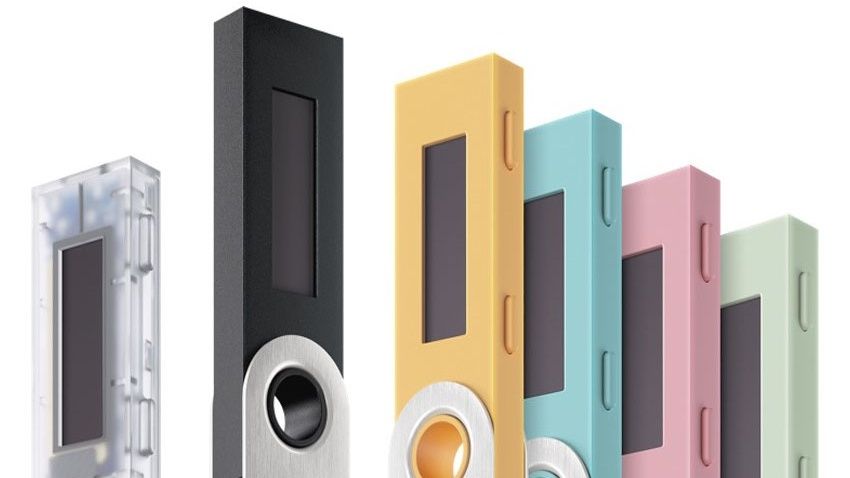 Unlike the Nano S, which comes in a variety of colors (i.e. Matte Black, Saffron Yellow, Flamingo Pink, Jade Green, Lagoon Blue and Transparent), the Nano S Plus only comes in black (with a silver case) — a plus for heightened discreteness. I personally wouldn't want a Flamingo Pink crypto hardware wallet; it'd attract too much attention!
Ledger Nano S Plus setup 
The Nano S Plus comes with a small booklet of instructions on how to set up the hardware wallet. If this is your first time using a Ledger product, you likely don't have the Ledger Live app yet. That's alright! Head to Ledger.com/start (opens in new tab) to download the companion app.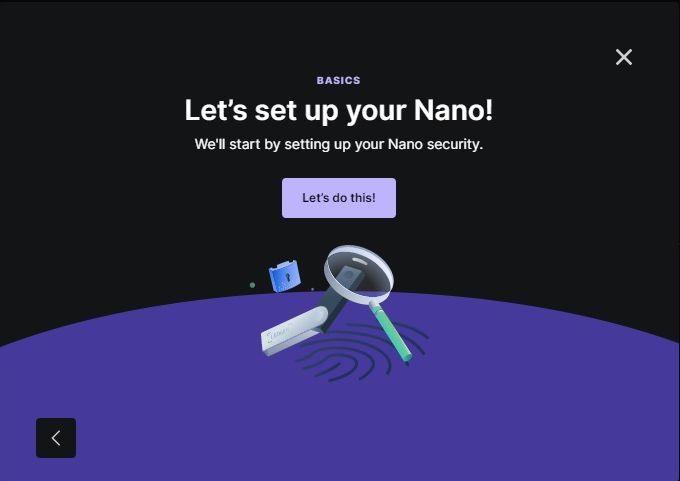 After launching the desktop Ledger Live app and plugging in my Nano S Plus (with the provided USB cable), I stumbled upon a slideshow of instructions on how to initialize my hardware wallet. I love that Ledger kicks off the slideshow guide with a mini-lesson on how hardware wallets work (there are many misconceptions).
Ledger reminds users that although they may use the Nano S Plus to move their Bitcoin from a hot wallet (e.g., Coinbase Wallet or Metamask) to a cold wallet (e.g., Nano S Plus), their crypto assets are still stored on the blockchain. For example, this is why you must pay a gas fee to transfer your Shiba Inu from Metamask to the Nano S Plus. Shiba Inu is still running on the Ethereum blockchain and you must pay a fee to the protocol so that it can execute the action of moving it to a new ETH wallet address (i.e., your Nano S Plus).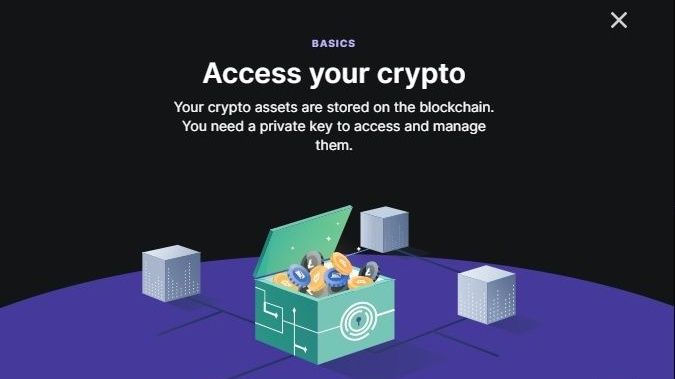 Next, I interacted with the hardware wallet to finish the setup; I was prompted to create a PIN code. Each Nano S Plus device generates a unique set of 24 words — this is your recovery phrase. If you lose your Nano S Plus, you need this 24-word phrase to regain access to your crypto. You'd have to purchase a new hardware wallet and reinitialize it with your recovery phrase.
There's no easy way to say this, but if you lose your recovery phrase, you're screwed. Ledger doesn't own a copy of it. As such, it's up to you to write down your recovery phrase and keep it somewhere safe. Nano S Plus comes with a tiny leaflet for writing down your 24 words. Funnily enough, some crypto users would shun this because the leaflet is made of paper. They'd implore you to store your…


Read More: Ledger Nano S Plus review — it calms crypto investors' fears, but there's room for