"It was a whole family activity of us searching for it, and trying to use that $500 wisely," Ms McCormick said.
Before that, Ms McCormick's wealth accumulation strategy was tied solely to her ballet shoe piggy bank.
"I'd just filled it up with silver coins."
Investing to learn
Ms McCormick, who reads The Australian Financial Review through her school subscription and hopes to go into investment banking, decided that in addition to a few sustainability-focused companies, she wanted to invest in cryptocurrency.
"I am investing now to learn and hone my investing skills for when it matters. With only a few hundred dollars here and there, and being solely dependent on my parents, losses from investments do not result in a major financial cost," she said, although she admitted that the losses do, however, sting her pride.
As the cryptocurrency market swells to reach $US2 trillion, retail investors need to be aware of the potentially huge losses by investing in risky cryptocurrencies, Australian Securities and Investments Commission chairman Joseph Longo warned earlier this year.
The digital assets are not recognised as a financial product and as such remain unregulated by ASIC.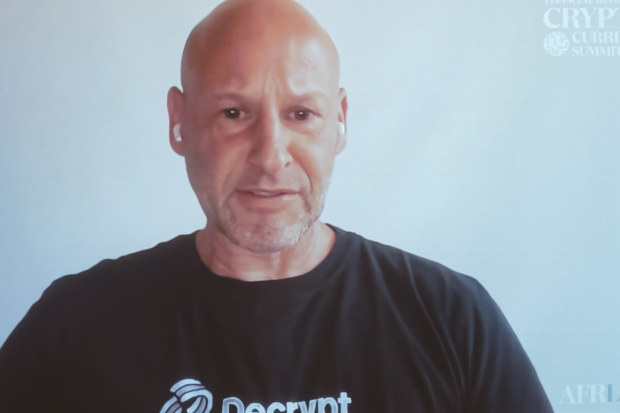 Anti-money-laundering and terrorism financing watchdog AUSTRAC also warned at the Australian Financial Review Cryptocurrency Summit on Wednesday that as cryptocurrencies become more mainstream, authorities need to find ways to track and prevent investment scams and illicit transfers of money.
It's a problem on the mind of ethereum co-founder Joseph Lubin too.
"The levels of scams are definitely not satisfactory at all," said Mr Lubin.
"But such things [like scams and rug-pulls] were not invented recently. We've got that in the traditional economy, but just like monetary systems have evolved over the last hundred years, these will harden too."
Ms McCormick agrees that there is risk in cryptocurrency investment, particularly with investors attempting to pick the next bitcoin.
She has also noticed an increase in cryptocurrency interest among her school friends.
"It's easy to say, 'educate yourself', but where do you get that education?" she asked.
"So I think, before you're getting into these situations of investing, make sure that you get information from credible sources because there may be good sources on YouTube, but credible is a different word."
To get her head around crypto, Ms McCormick completed the free Wharton Online FinTech Specialisation certificate through Coursera.
She believes new investors should start by investing in the more well-known cryptocurrencies such as bitcoin and ethereum, and seek out cryptocurrency thought leaders who are swaying investor opinion, and see whether they are reliable.
It's just really thrilling to feel like you're a part of the future and a part of something really big.

— Chloe McCormack, crypto investor
The student said she identified with advice given by Chloe White, the managing director of blockchain regulation consultancy Genesis Block, to start small with cryptocurrency.
Speaking at the cryptocurrency summit, Ms White said she started by dedicating 0.5 per cent of her portfolio to cryptocurrency.
"Then I worked up to 1 per cent … getting from zero to 1 per cent was so much harder than any allocation I made after that point," Ms White said.
Ms McCormick invests across ethereum, bitcoin, solana and polka dot using a crypto trust account held in her mother's name.
Her parents had been converted to cryptocurrency by watching her investments, she added.
"I'm the most excited about ethereum, not just the potential gains but what you can do with the technology. I think decentralised finance and being able to use the blockchain technology for things like provenance is really exciting," Ms McCormick said.
"It's just really thrilling to feel like you're a part of the future and a part of something really big.
"Let's be honest – I know that crypto has boomed and all, but it's still really early."


Read More: Teen buys crypto because she wants a 'slice of the future'